Thank you to our 2023 Gold Level Sponsors!
LARGE RAFFLE PRIZE TICKETS FOR SALE FOR SOME AMAZING PRIZES!
Tickets will be sold at the event for $5.00 each, or (5) for $20.00 or in advance by reaching out to Melissa Faint.
The $5.00 raffle tickets can be used for both the Home Plate Club Tickets or 98Rock Fest tickets!
Thank you to our friends at Sunbelt Rentals for generously donating (4) Home Plate Club tickets for the Tampa Bay Rays vs. Milwaukee Brewers on Saturday, May 20th, 2023! 
These game tickets include an all-inclusive buffet plus bar service, in-seat service, oversized leather chairs, full access to the Rays Club and an exclusive dining area for privacy from the crowd, parking and are located DIRECTLY behind home plate! 
And another thank you to our friends at Trenam Law for their fantastic donation of (4) ConnectWise Loge Box tickets and (1) parking pass to the 98Rock Fest on Friday, April 21st, 2023!
These tickets include private seating, an exclusive lounge and unlimited, upscale food & beverage service!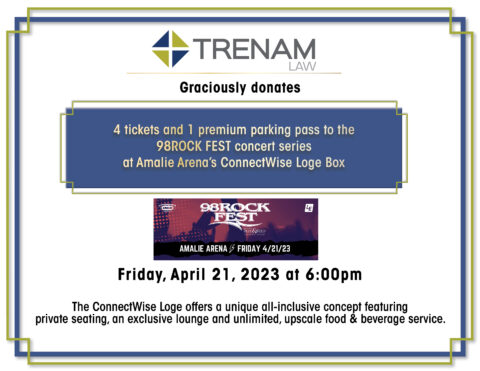 Join us on Friday, April 14th for our annual fundraiser and happy hour, benefitting the
Children's Burn Foundation of Florida! 
Largo Golf Course –
12500 Vonn Rd.
Largo, FL 
Check in begins: 5pm. Tournament begins: 6pm.
Dinner to follow.
Live Music, Awards, Prizes and Raffles, dinner included for all players and spectators. 
Please reach out to melissa.faint@piperfire.com if you have any questions about the event or how you can donate/sponsor! 
Register yourself or your team below! 
2023 Player Costs
$35.00 for 18+ players
$20.00 for ages 6-17 years
$20.00 for spectators
Kids 5 and under are free
ALL attendee prices include dinner
Footgolf Registration Page